Materials
Champ Landfill
Please review the list of acceptable and unacceptable items for disposal outlined below. If you have a question about wastes for disposal, please contact us in advance of bringing the material to the landfill. Call Champ Landfill at 314-279-5777 or email us.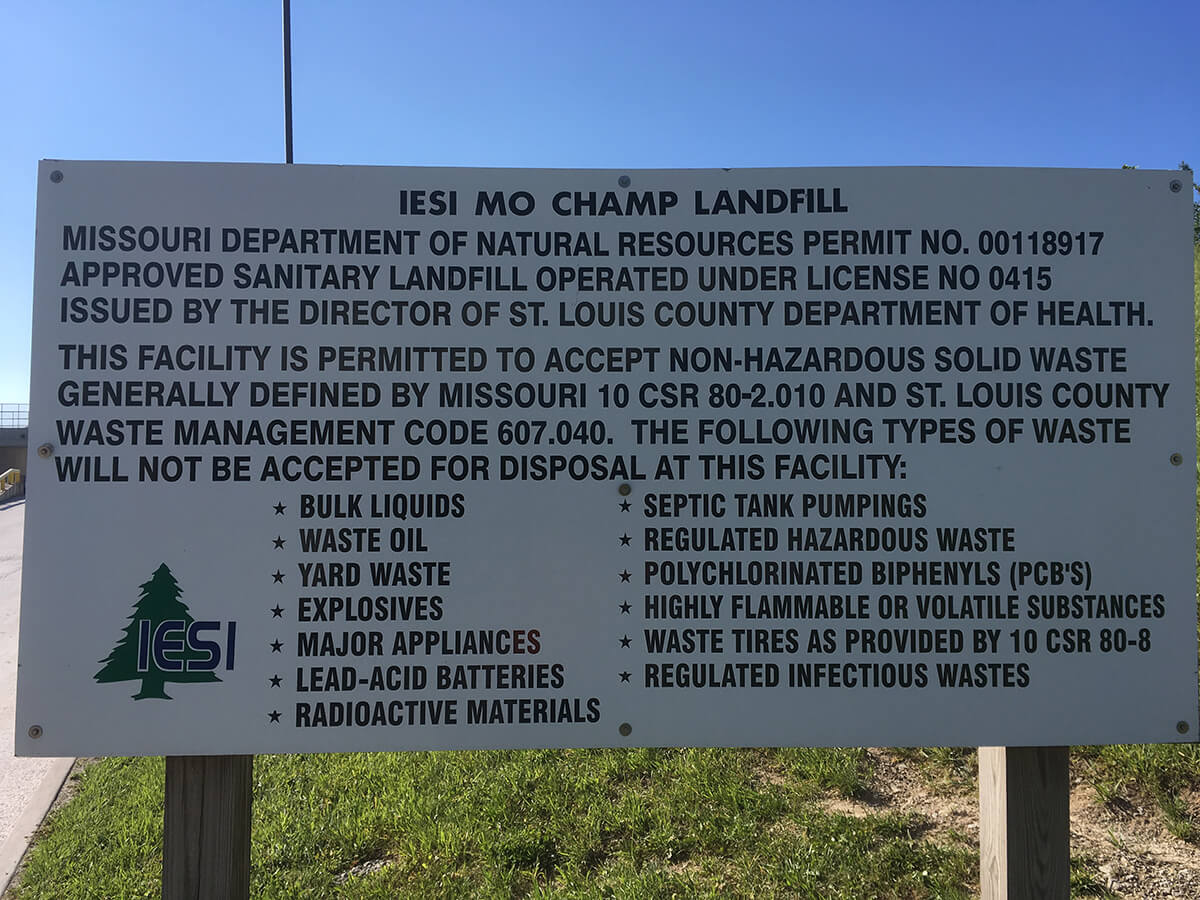 Please review the list of Champ Landfill's accepted and unaccepted materials.
Accepted Landfill Materials
Examples of Acceptable Waste Types
Clean fill - soil
Concrete and asphalt
Construction debris
Farm or agricultural waste
Household municipal waste (Includes carpet, furniture, mattresses)
Non-hazardous commercial waste
Tires that are chipped or shredded only
Tree branches over 6 inches in diameter
Special Waste Needs Preapproval
Call the office at 314-279-5777 or email us

---
Unaccepted Landfill Materials
Examples of Unaccepted Waste Types
Appliances (major)
Bulk liquids
Explosives
Highly flammable or volatile substances
Propane gas containers
Radioactive materials
Regulated infectious waste
Regulated quantities of hazardous waste
Regulated quantities of PCB
Septic tank pumpings
Tires, Whole
Toxic waste
Waste oil
Yard waste (keep separate for green waste recycling)
Green Waste Recycling
For safety reasons, yard waste materials are only accepted Monday through Friday. They are closed on Saturdays. If you have a question about what kind of green wastes are accepted for recycling, please call Hansen's Environmental Wood Resources at 636-379-1830.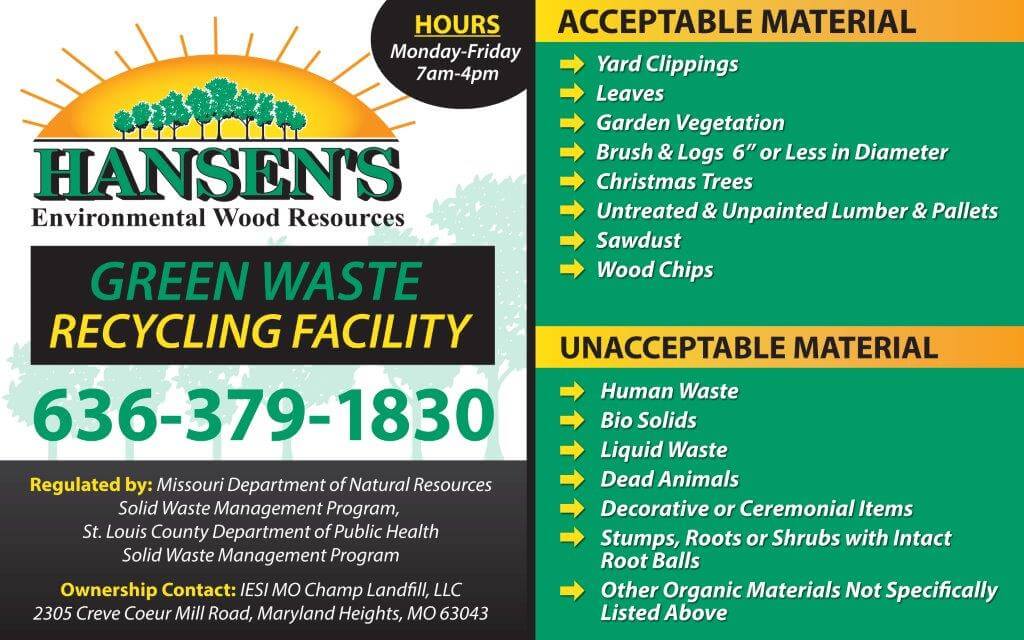 For your convenience, the Champ Landfill also provides a location on site that accepts green waste for recycling. Please read what green waste materials are accepted and unaccepted and keep green wastes separate from other materials.
Accepted Green Materials
Examples of Acceptable Green Waste
Brush and logs 6 inches or less in diameter
Christmas trees
Garden vegetation
Leaves
Sawdust
Untreated or unpainted lumber & pallets
Wood chips
Yard clippings
---
Unaccepted Green Materials
Examples of Unaccepted Green Waste Types
Bio solids
Decorative or ceremonial items
Dead animals
Human waste
Liquid waste
Stumps, roots, or shrubs with intact root balls
Other organic material not specially listed