Did you know?
Leachate is liquids present in disposed waste in a landfill, or rainwater that infiltrates through a landfill's cover. Given the chemical and analytical make-up of landfill leachate, it cannot be discharged to a natural waterway (stream, river, lake, etc.). Champ Landfill has a direct discharge of landfill leachate to the Metropolitan St. Louis Sewer District (MSD). MSD both regulates and treats St. Louis' sewage in a safe and responsible manner before returning the clean water to surrounding waterways.
In the spring of 2016, MSD discovered that Champ Landfill's leachate contained entrained (trapped) landfill gases that could be released in the sewer network. MSD employees must enter sewer manholes when making certain sewer repairs and these gases can be potentially harmful to their workers. If released, these gases could also cause odors if they escape through manhole covers.
Champ Landfill relied on the expertise of a local engineering firm to design a temporary leachate pre-treatment facility to treat leachate to safe levels prior to discharge into MSD sewer piping. A permanent facility is currently being designed based on the successes of the temporary facility.
The temporary, or interim, leachate pre-treatment facility consists of a two-step process to pre-treat leachate to safe discharge levels. Step 1 is leachate stream equalization and air sparging (the addition of ambient air from a compressor that bubbles through the leachate). Both equalization and air sparging take place in two converted frac tanks. Two 20,000+ gallon leachate tanks are connected to provide adequate retention time during the air sparging process.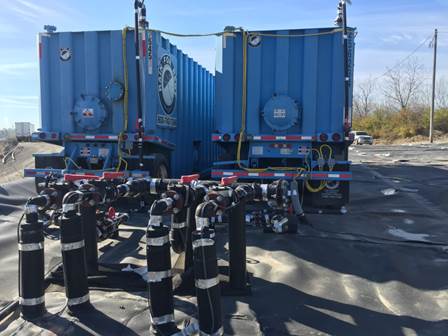 Leachate from the sparging tanks collect and drain to another holding tank, where ferric (iron) chloride is added to flocculate (adhere) to other suspended particles.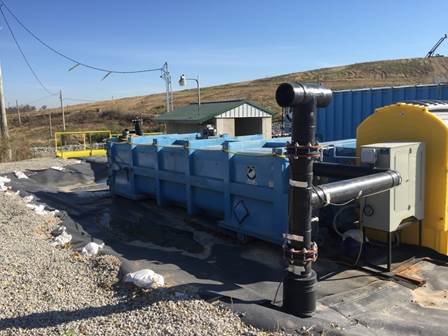 After the addition of ferric chloride, leachate is finally drained to a weir structure equipped with four-gas monitors (the four gases continually monitored are hydrogen sulfide, carbon monoxide, LEL/lower explosive limit, and oxygen).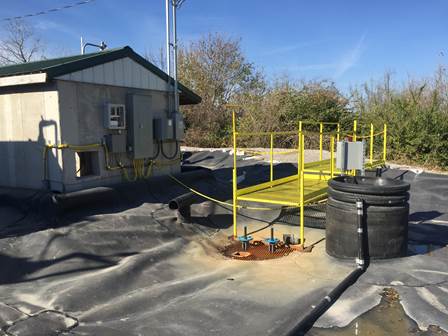 A laser eye in the weir structure calculates final flow of leachate discharge, and finally the liquids are released to the MSD sewer network.
---
Last Modified: